There are many casino game providers out there but only a few stand out in providing great gameplay and innovative game features. Prime among them is Play'n GO, known for constantly bringing creative titles that offer immersive features with equally thrilling rewards.
Are you curious to know more about this leading game provider in the casino industry? Let's discover everything you need to know about one of the top game providers out there at Casino Days India.
What is Play'n GO?
Play'n GO is a gaming giant founded in 1997 by a small group of techies from Sweden. Since its inception, they have provided innovative gameplay experience in the casino industry and have secured their spot among the top game providers in the world.
As technology developed over the years, Play'n GO was also among the first to recognise the possibilities when it comes to mobile slot gaming. Now they offer the largest collection of mobile slot games to date. To improve the overall gaming experience for patrons, they developed OMNY, a server-based gaming solution that allows players to track their progress.
Play'n GO slot games for you to check out
Play'n Go offers some of the best slot games out there elevated by the rich stories drawn from history, legends, and folklore. This adds even more depth to the games are the fully-fleshed-out characters that offer intriguing backstories and story arcs. Here are some of the top-recommended games worth checking out:
Rich Wilde and the Book of Dead
Rich Wilde and the Book of Dead is a great find for those looking for slots that offer rich backstories and story arcs with smooth gameplay.
The titular role, Rich Wild, is Play'n Go's very own explorer extraordinaire taking on quests rooted in Greek Mythology to Egyptian Mythology and finding hidden treasures from forgotten civilizations around the world.
In this offering, Rich Wilde is introduced as he embarks on a journey to find the Book of Dead. It is the first of many, making him a legendary character within Play'n GO's cache of games. With an RTP of 96.21% and 10 possible paylines in its 5 reels, it offers a win up to 5,000x the stake.
You'll also receive additional free spins by landing a specified amount of Scatter symbols. During the spins, you'll get to enjoy the Expanding symbol feature that transforms all the symbols on the grid into one paying symbol for a chance to get more winning combinations.
Legacy of Egypt
Mixing both myth and history along its 5 reels that boasts an RTP of 96.5% and up to 30 paylines, Legacy of Egypt offers an immersive and rewarding gameplay experience that will keep you engaged as you attempt to win up to 5,000x the stake.
The game is played against the backdrop of Ancient Egypt with columns that highlight vibrant Egyptian murals that remain faithful to the period.
There are also several bonus features in the game for players to enjoy, including the Wheel of the Gods which awards players up to 20 free spins with active multipliers. Another feature that can be triggered is the Pyramid Spins where up to 8 free spins can be received.
Raging Rex
As Play'n GO continuously dives into world history, adding a title that explores the Jurassic period should be no surprise. Once you enter this game, you'll be immersed in a period where wild and majestic dinosaurs roamed the land.
Raging Rex is exactly that with its 6-reels, RTP of 96.34%, and up to 4,96 paylines. The game also features expanded reels that show the title's main character, a Raging T-Rex, complete with an animated roar from the mighty creature of the past to grant you mammoth wins!
KISS Reels of Rock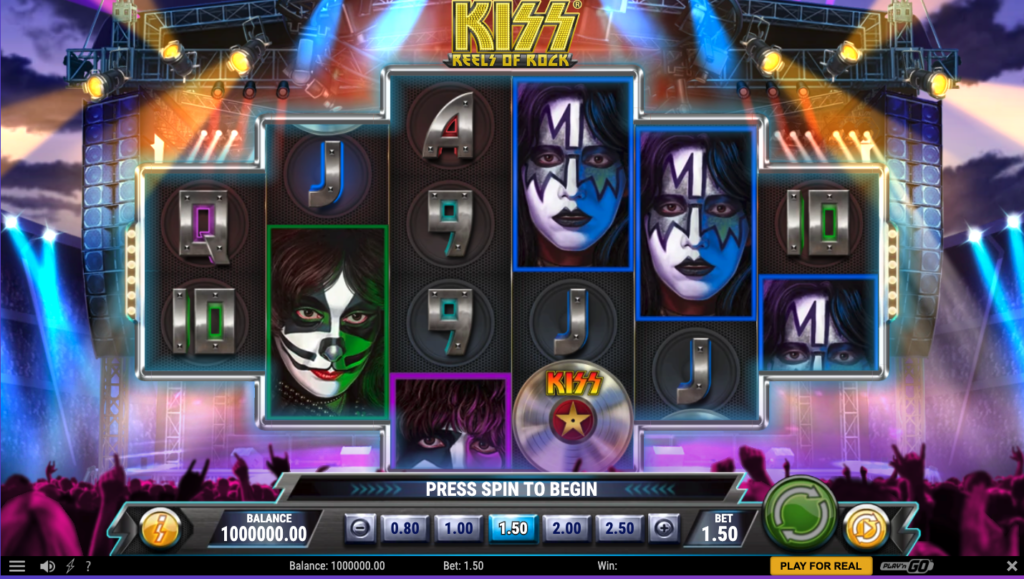 Aside from intricately-written characters, Play'n GO also offers plenty of slot games that draw inspiration from some of the greatest hits and hitmakers across different genres. KISS Reels of Rock explores the music of the band Kiss, which rose to prominence in the late 1970s.
You'll find yourself rocking along to the music as you spin its 6-reels that offer 10 paylines and an RTP of 96.2%. Aside from the music, the game design offers an immersive gameplay experience that brings you to a concert hall as one of the greatest rock bands performs.
Among the variety of great bonus offerings, you'll get to experience randomly activated features called Lock and Load which synchronize specific pairs of reels to display the same symbols. Another randomly activated feature is 'Drive Me Wild' where a random wild will be added to the grid and all wilds that appear during the feature have a 2 multiplier.
Dr Toonz
Play'n GO also develops stories rooted in science fiction which you will see when you play Dr Toonz. It is a 6-reel slot game that offers an RTP of 96.25% and 4,096 different ways to win, which is a truly inventive game. Set before the time of Play'n GO's other titles such as Reactoonz and FGigantoonz, this game reveals the rich lore within the Toonz universe beginning with the mad scientist Dr Toonz.
Aside from the sprightly game design and several free spins, a great feature in the game is the Quantumeter. It is a meter that gets charged with different colours that offer a variety of bonuses including adding wilds, transforming paying symbols into a different ones, and removing low-paying symbols on the grid for more higher-paying winning combinations.
Ready to jump into a game from Play'n GO?
Considering the number of titles from Play'n GO that offer quality gameplay and rich story arcs that will keep you entertained long after you have finished spinning the reels, it's no surprise that they have remained one of the top game providers in the world.
Now that you know the unique gameplay experience Play'n GO offers with its diverse offerings, be sure to check out Casino Days India's cache of Play'n GO slot games.